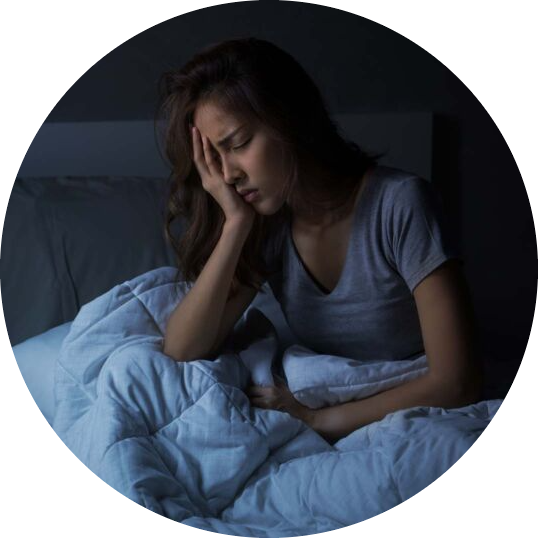 Insomnia
is a common sleep disorder characterized by persistent difficulty falling asleep, staying asleep, or experiencing non-restorative sleep, despite having the opportunity for adequate rest. It can have a profound impact on daily functioning, mood, and overall quality of life.
The development of insomnia is influenced by various factors, including stress and Anxiety, poor Sleep Habits, medical conditions, medications, and environmental factors.
Common symptoms of insomnia include difficulty falling asleep, frequent awakenings, early morning awakening, non-restorative sleep.
Effects
may extend beyond sleep disturbances and can impact various aspects of life. For instance, daytime fatigue, impaired cognitive function, mood disturbances, impaired performance, and risk of health issues.
Insomnia is an indication, not a chaos. It's much like an ache, prompting a deeper exploration into its underlying causes before seeking remedies. You're not going to provide a patient ache medicine without figuring out what's reasoning the pain.
Therefore, management of insomnia involves a comprehensive approach. These include, sleep hygiene, Cognitive-Behavioral Therapy (CBT), medications, stress management, and identifying and treating underlying conditions. Largely, consultation with a mental health professional is recommended to tailor an approach suited to individual's specific circumstances.
Insomnia is a treatable condition, and with the right interventions, individuals can regain healthy sleep patterns and improve their overall well-being.
Social Handles & Channels
Subscribe to our various channels – YouTube, Whatsapp, & Telegram, to further stimulate your knowledge towards enhancing your mental well-being and life adjustments.
I felt great
"I was very pleased with the services you rendered Receiving your care gives me a feeling of home away from home. Thanks a lot"
I am grateful
"Mind Engrave support is very effective. I felt so comfortable with your services from consultation to the therapeutic intervention. It's really valued"
I am really satisfied
"Moving me out of my depressive state to brighten me up with your treatment is an experience. Your service is really a phenomenon to me."
Online Therapy
To schedule an Online session you can reach out via:
Call/Whatsapp: +2348160613745
Email: contact@mindengrave.com
Our popular online channels for psychotherapy are Zoom, Google meet, Whatsapp